SwingLabs is a great resource for everyone who wants to make their java applications look as nice as possible. The main swingx-package is available in the main maven repository using this dependency:
      org.swinglabs
      swingx
      0.9.2

But sadly Swingx-ws is missing. At the moment only weekly snapshots exist on the SwingLabs-Homepage.
Today I uploaded swingx-ws to my own little maven2 repository because it will be used in a little application I am playing with :smile: .
You can add swingx-ws to your project with this lines:
      org.swinglabs
      swingx-ws
      0.1-SNAPSHOT

You have to add this repository to your project:
      wannawork
      http://stuff.wannawork.de/maven2

This little application is done in less than 20 Lines of Code: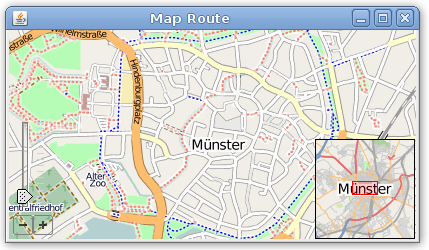 Some Links about the map component: