Momentan wandele ich etwas abseits des normalen Musikgeschmacks (Michael, ich weiß was du jetzt denkst). Es gibt sehr sehr viele hübsche Bands, die leider viel viel zu unbekannt sind.
Ein neues Album, das ich am Wochenende durch Zufall gefunden habe, war dieses hier:
Monsoon - The King of Eyes, Tits and Teeth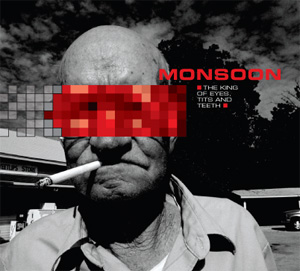 Monsoon kombiniert ungewöhnliche Rythmen mit schöne Poesie und verpackt dieses in einer schönen, dunklen Atmosphäre. Nicht Rock, nicht Pop und sehr sehr schön.
Hören könnt Ihr die Lieder entweder bei iTunes oder auf der Band-Homepage.