Holy Shit !!!! Es gibt den ersten Screenshot von Duke Nukem 4ever!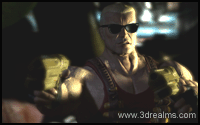 Der Screenshot wurde bei einer Job-Anzeige von 3D Realms gepostet.
Und es wurde von 3D Realms auch bestätigt, dass dies ein Screenshot aus dem Spiel ist:
I guess I'll reconfirm what I said last night. That's an in game, real-time shot of Duke standing in a random hallway. It was really done as a small teaser for a job ad on Gamasutra.com. Nothing more.

I'm glad some of you enjoyed it, and we'll show more later as we start to wake from our slumber and decide how best to show the game off.
( Quelle )
Mal sehen ob jetzt mein Lieblings-Spruch "When it's done" bald seine Gültigkeit verliert :wink: . Mein erste Eintrag mit dem Spruch ist übrigens vom 26.12.2003 :wink: .